September 15, 2020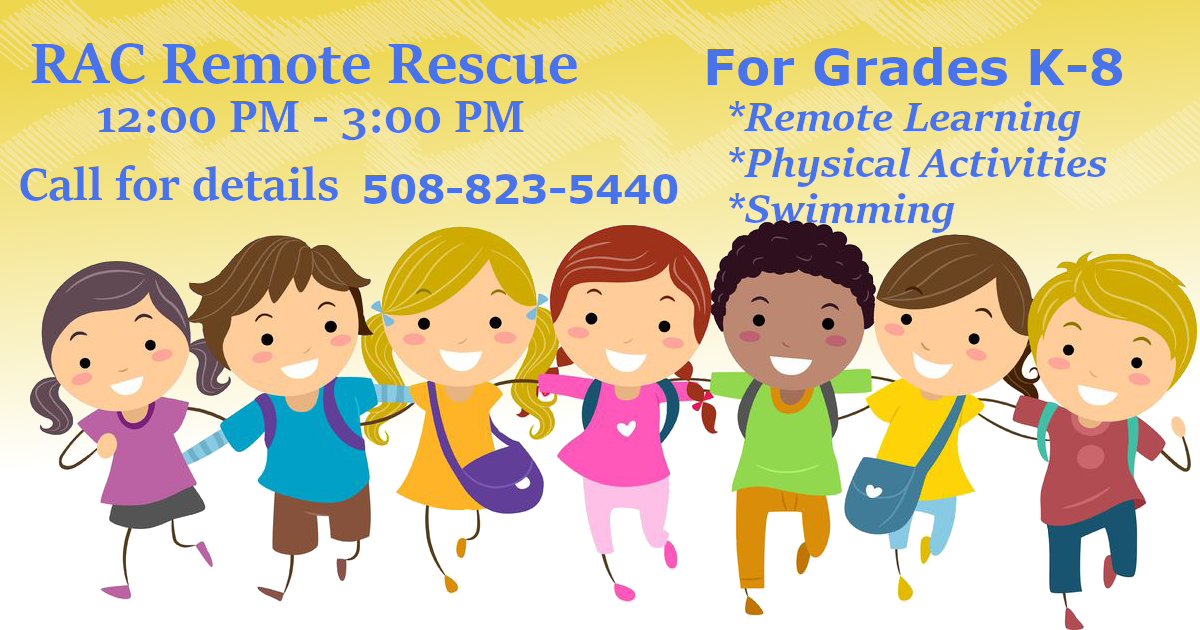 ---
First Date: Monday, 9/14/20
Days of Operation: Monday through Friday
Hours: Dropoff 12 pm to Pick up 3 pm sharp. Parents must wait outside prior to dropoff and pickup. Late pickups will be subject to an additional fee.
Ages: Grades K-8
Participants can enroll for one to five days. Program will continue while demand persists. Parents must sign up in advance and fees are nonrefundable. 
Single Day: $40 per day
Sibling: $35 per day
Week: $175
Capacity Limit: 30 registrants per day. Deposit required to hold a slot.
Contact Email: kate@raynhamathleticclub.com
Details:
RAC Remote Rescue will provide a safe place for your child to have supervised remote learning, participate in engaging covid safe physical activities and games, and swim in our heated pool. 
Program Activities:
Children will spend 50 minutes in three different supervised settings. 
Outside or gymnasium where staff will engage participants in games, physical activities, and sports. 

An indoor, heated pool where lifeguards will oversee free play and fun activities. Please pack a swim bag with a bathing suit, towel, and a plastic bag to put wet items in after swimming.

A large classroom with clean tables and social distance adhered to. Staff will be available to answer questions and offer support. Free wifi access will be provided and monitored for proper school use only. Parents are asked to submit their child's schedule prior to the first day. Please pack a bag with learning materials, supplies, laptops, and headphones. 
All tables, chairs, sports equipment, etc. will be sanitized while children are rotating settings. Hand sanitizer will be available. 
Parents must sign a waiver and health form in order for their child to participate in RAC Remote Rescue. 
All social distancing guidelines will be followed. Masks must be worn when entering and leaving the facility and when participants are not able to socially distance in classrooms and facilities. 
Upon arrival all participants will be screened. If a participant has a fever of over 100 degrees he will not be allowed to participate. Participants will not attend if they are showing any COVID symptoms or have been exposed to COVID virus within the last 14 days.
Participants' bags will be kept in a safe place in the classroom. 
Children will not eat during the program. Please bring your own water bottle filled with a drink for the afternoon.
---